Guide: getting ready for a new school year
You've reached the end of your current school year and are getting ready to start the new year afresh. But, what happens to your TeachBoost dashboards and data? Click the links to skip to the sections below:
Staff rosters
Your rosters will automatically roll into the new year as they are so there's no need for you to re-add the same staff each year. However, you might already know you have a few new hires incoming, or folks moving on—we've got you covered!
Three months before the end of your current school year you will see a banner up top on the Staff Manager:

Clicking the blue button to update staff in the next year will take you to the next year's roster. Here you can add any new hires starting next year, or remove any folk due to leave, all while preserving the integrity of your current year's roster.
When you remove staff from next year's roster, you'll see that their names are grayed out with a strike-through. This means that the staff member has been removed from all future rosters, and will no longer have access to the site from the end of the current school year.
Note: Don't forget to click the blue button to return back to the current school year when you're done!
Form and goal data
To ensure your dashboards are fresh for the new school year, we reset all your dashboard counters to 0.
Not to worry though—all your forms and goals are safely preserved for you, they are simply archived in a previous year's dashboard, which you can access by using the date-switcher up top: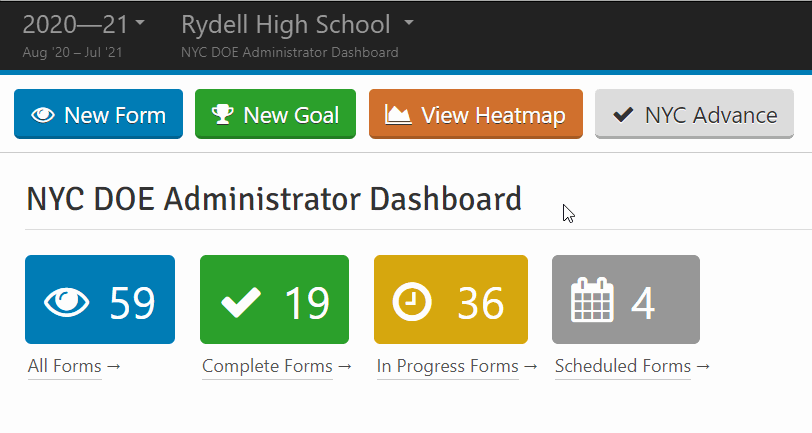 Reports and exports
As with your form and goal data, your reports and exports will start over at the beginning of each new school year. However, you can use the date switcher to access your reports and exports from previous years at any time.
Note: Some reports may show blank, with no data for previous years if you are using a new evaluation framework in the current school year. To switch the framework to the appropriate year, visit this help doc!
Questions or concerns?
If you have any outstanding queries, please reach out directly to our support team with the details—we're happy to help!
Was this article helpful?
0 out of 0 found this helpful