Activity Progress Dashboard
The Activity Progress Dashboard must be enabled for your organization by your Implementation Manager. If you're interested in using this feature, please reach out to your TeachBoost Implementation Manager or contact TeachBoost Support.
The Activity Progress Dashboard allows you to track the activities required of your district's schools, as well as your individual staff members, based on activity due dates.
You can access this new feature directly from your usual dashboard by clicking the link 'Try the new Activity Progress Dashboard!' in the top-right corner.

Pro-tip: Make the Activity Progress Dashboard your default dashboard by clicking the star icon to the right of the dashboard's title.

How does it work?
Powered by 'Tracks' that are customized to your school year, the Activity Progress Dashboard allows you to track goals, observation and evaluation forms, and summatives by the due date, and see whether they've been completed, shared or signed.

View activities by due date
This Activity Progress Dashboard will default to the upcoming due date for the next activity or activities so you can prioritize where you spend your time. You can navigate to see activities due on future or past dates by selecting a different date.
Explore different types of activities
If more than one type of activity is due on each date, you can switch to view each activity in the drop-down menu. You should see the dashboard update with key information about what has already been completed and what's up next for each activity.
Drill down into activities due on different tracks
The dashboard defaults to show you all staff on all tracks that have the same activity due. If you'd like to drill into those activities on a certain track, simply select the desired track in the dropdown to show only the staff on that track for the current school year.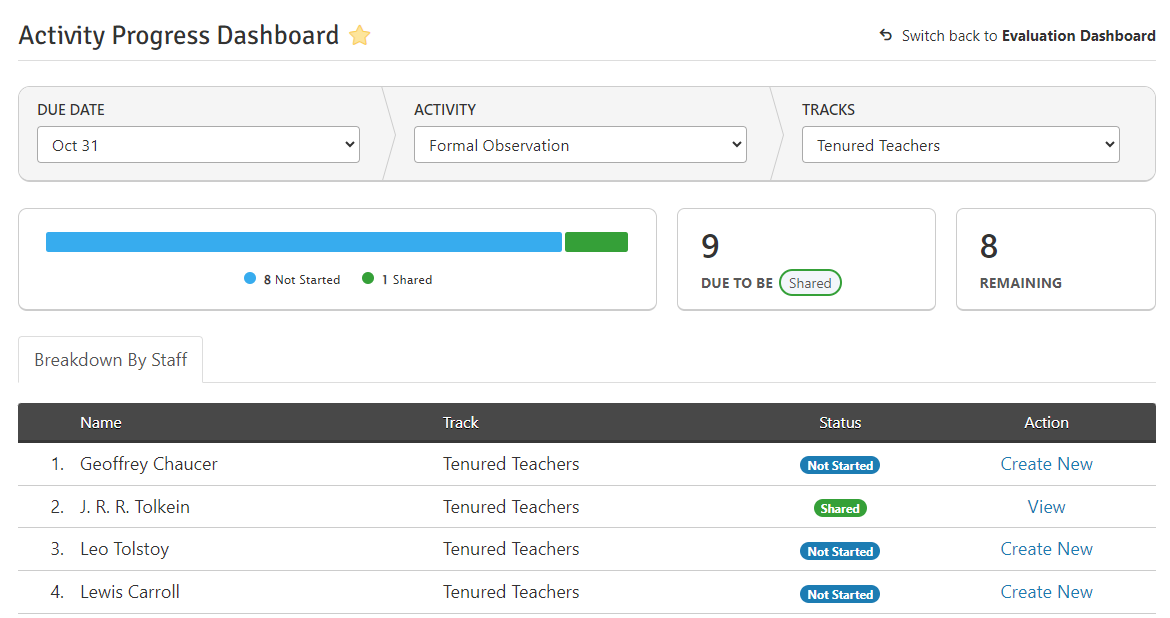 Was this article helpful?
2 out of 2 found this helpful