The Activity Progress Report is currently in beta-testing. if you're interested in trialing this feature, please reach out to your TeachBoost Customer Success Manage or contact TeachBoost Support.
The Activity Progress Report allows you to track the activities required of your district's school, as well as your individual staff members, based on activity due dates.
To access this report from your dashboard, click the Reports button in the left-hand menu and select the Activity Progress Report option.
How does it work?
Powered by 'Tracks' that are customized to your evaluation year, the Activity Progress Report allows you to track goals, observation and evaluation forms, and summatives by the due date, and see whether they've been completed, shared or signed (based on what's required by your evaluation workflows).
View activities by due date
The Activity Progress Report contains a horizontal list of 'Target Dates' for your staff activities along the top of the report. This list includes all of the due dates associated with the 'Tracks' at your district or school.
Click on any of the 'Target Dates' and use the 'Activity' drop-down filter to view which specific activities are associated with that due date.
Once an Activity has been selected, the 'Progress at a Glance' chart to the right and the 'Breakdown' section (see below) will update to reflect the data associated with that activity.
Breakdown by Group
From a district-level view, the 'Breakdown by Group' tab provides an overview of each of your district's school group's activity progress.
Each school group has an activity progress bar that is displayed on a percentage scale and is further delineated by the activity status, which has been labeled with the following indicators: 'Not started' (blue), 'In-progress' (yellow), and 'Completed' (green).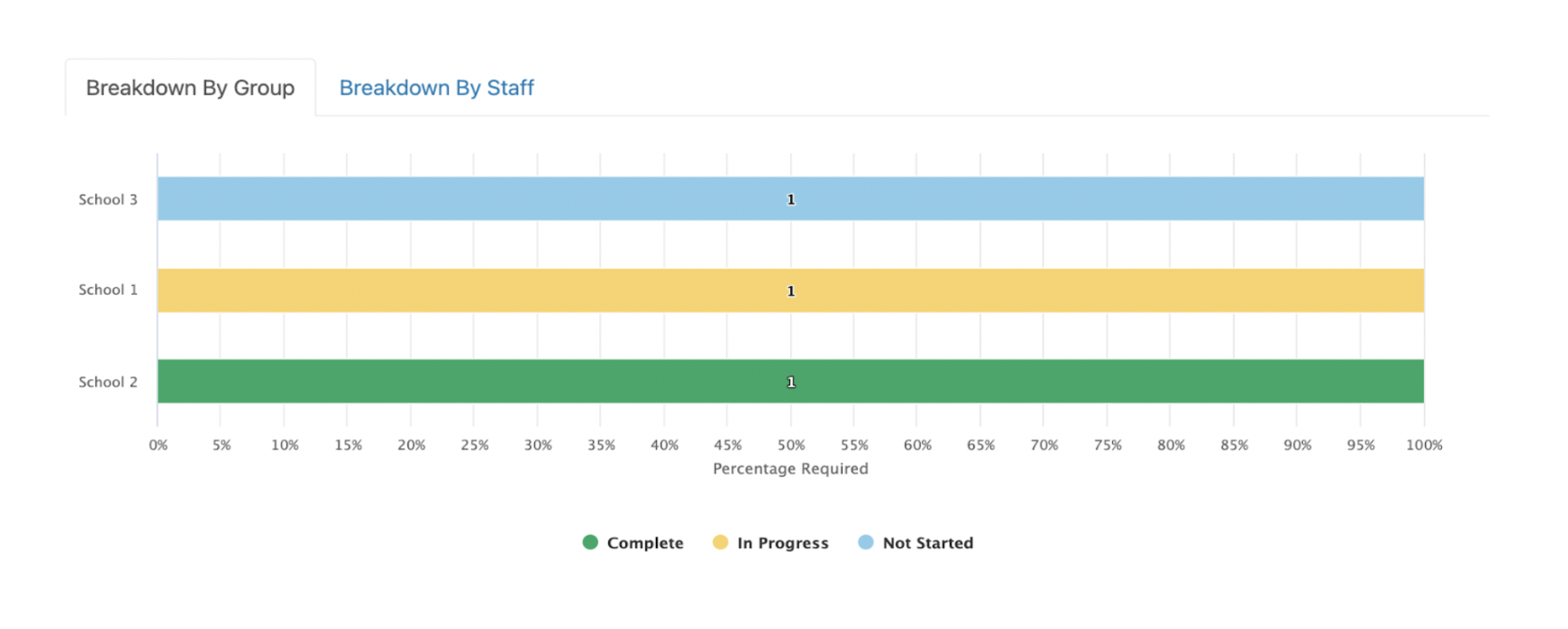 When hovering over a school group's activity progress bar, the activity status displays two details:

The number of staff who have

Not Started

or

In-progress

or

Completed

an activity, and

The total number of staff who are required to complete the activity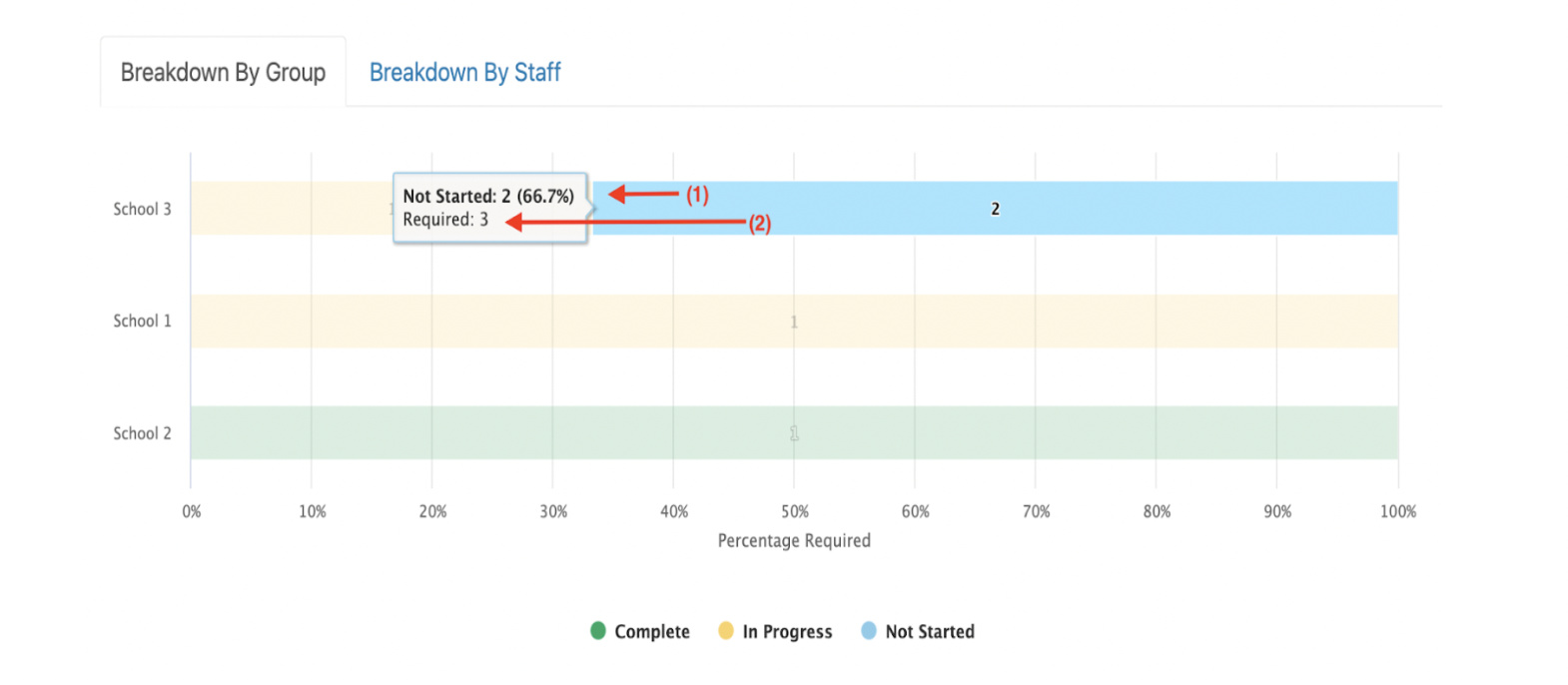 Additionally, if there are sub-groups within a school, it is possible to drill deeper into the activity progress bar by clicking on the school in which the sub-group resides and toggle between the two views.

Breakdown by Staff
From a school group's view, the 'Breakdown by Staff' tab allows administrators a more granular view of information about the staff who are assigned a track at these levels.


The 'Status' column on this page identifies what needs to be done in order to move to the next stage within an activity, which will update depending on the track's requirements.
The 'Action' column allows you to create or jump directly to the staff member's activity.
FAQs
I have district-level access, so why I can only see a single school's activity progress?
If you or an administrator has used the group switcher at the top of your dashboard to view a single school group, you will only be able to see information pertaining to that group and any directly related sub-group and will not be able to see the district group's data.
Simply use the group switcher once more to navigate back to the district group and you should be all set.
Why is my staff member missing from the 'Breakdown by Staff' list?
If you notice that a staff member's track is incorrect, or that a staff member is missing from the list, it means you'll need to update or add an activity track for them. From the Manage Staff page, click on the Tracks tab to update your staff member's track.
Was this article helpful?
1 out of 1 found this helpful