From your dashboard, click Reports and then select the option to Export Data to Excel.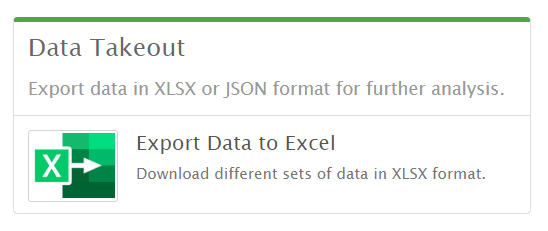 You can then choose which data to download. All our downloads are in XLSX format:
All Forms: Basic information about all forms. Use this to see who is creating forms, who they are about, and the status of each form in the system.
All Goals: Detailed information about all goals. Use this to see the content of each goal created as well as the status of it and whether it is approved.
All Staff: All Staff in the system. Use this to see who is included on the roster, as well as any tags and targets.
All Next Steps: Detailed information about all next steps. Use this to see the content of each next step created as well as who it is for and whether it is completed.
All Scores and Ratings: All score data from forms. Use this to see all of the ratings captured in forms.
Template Export: Detailed information about all forms on a chosen template. Use this to see the content of each form created.
Heatmap Data: a download of your full Heatmap, enabling you to select the staff to be included and the framework on which you need rating data
[if enabled] All Summative Reports: Download a spreadsheet containing all of the teachers and their score averages across the competencies of a framework
Once you've selected the data you'd like to download, you'll see a table appear at the top of the data export page letting you know the status of your export. When it is marked as 'Ready', you'll be able to download your data from this page, and you'll also receive an email link to download your file.
Note: Anyone with the email link will be able to download the file you've created, so be careful who you share this information with. We will then delete the file after 72 hours in order to protect your privacy
Need something else?
Get in touch with us by submitting a Support ticket to let us know what you're after!
Was this article helpful?
0 out of 0 found this helpful