You can click the Edit Goal button at the top of any Goal Profile page to open up the goal for edits and make any necessary changes or additions.

If your goal has multiple 'pages' for you to fill out—usually at review points at different times of year—then clicking Edit Goal opens a dropdown menu to select the page you'd like to start editing.
Once in the edit screen, clicking the green Save button will save your progress as you go.
When you've finished filling out the page, clicking the purple Submit & Notify button will show your goal as finalized in all school dashboards. Find out more here!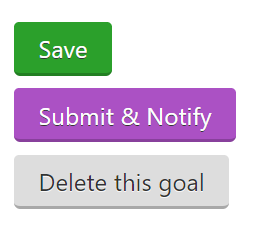 Was this article helpful?
0 out of 0 found this helpful