Logging in for the first time
Welcome to TeachBoost! If you're logging in (or helping your staff log in) for the first time, skip to the section you need below.
Note: If you're unsure whether your school uses G Suite for Education (and whether you can sign in with Google), you can paste your email address into this domain checker to find out -- if the message states 'This is a Google domain!' you can sign in via Google, as below).
My school uses G Suite for Education
If your school email is a Google domain, you can sign in via Google, without the need to set and remember a separate password:
From the Login Page, select the option to Sign in with Google
Choose your school account to log in
You may also be prompted to allow TeachBoost access to your account information and Drive files. If so, accept these to proceed.
Note: We only use this information to log you into TeachBoost and to let you easily upload files from your Drive to TeachBoost.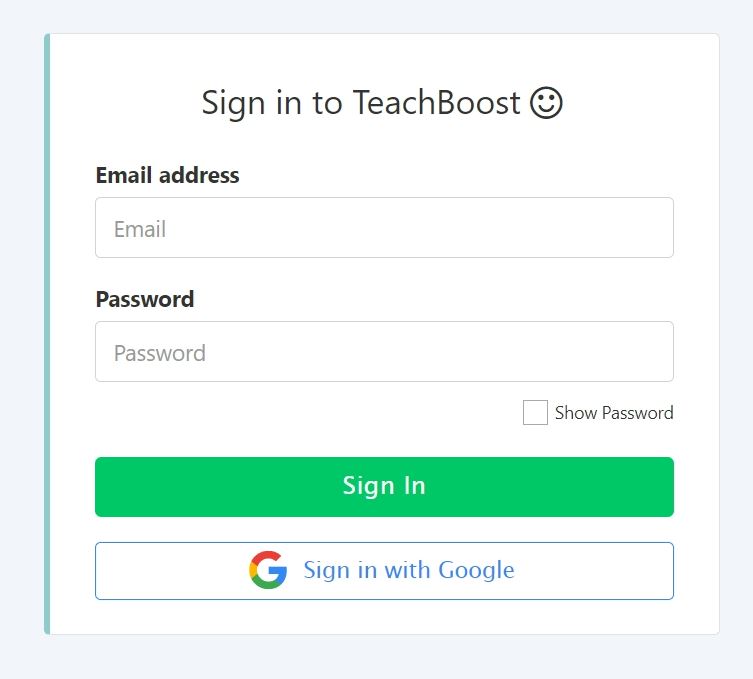 I need to activate my account and set a password for TeachBoost
If your school email is not a Google domain, you'll need to 'activate' your account by setting yourself a password.
From the Login Page, select the option to Activate your Account
Enter your school email address and check the box to agree to our Terms of Use and Privacy Policy
Click the button to Send Activation Email and claim your account
We'll send you an email verification to make sure that it's you logging in to the account, ensuring the privacy of your data.
When you receive the email (this should only take a minute or so) then click the link provided: It'll take you to the login page where you can create and confirm the password for your TeachBoost account.
Note: This password should be a minimum of 8 characters and is case-sensitive.
If you've been waiting a couple of minutes on an activation email that still hasn't arrived and you've checked your Spam/Clutter folders, then please don't hesitate to reach out to support by submitting a ticket—we'll get right on the case with you!
Help! I'm having trouble logging in
When having trouble logging in, there should be an error message explaining the cause of the issue. See below for the most common error codes and how to resolve them!
If you know you've been registered for an account but still can't log in, please reach out to us directly with a support request and include your full name, email address, and school and we'll take a look with you.
Was this article helpful?
1 out of 1 found this helpful